SambaFunk! "Carnaval Explosion" with King Theo
SambaFunk! is a great dance, fitness, cultural workout. Combining the cultural elements of Brasilian Bahia style Carnaval Bloco with African American funk.
Join us to move your body, get into shape, build cardio endurance, physical stamina and learn the latest dance moves.
The Funkquarians are the regular participants in the SambaFunk! community.  This includes all the dancers, musicians, artists in general, and associated friends and family.  The Funktyme Playah's are a group of Funkquarians who play for the SambaFunk! class and various performances.
Instructor, artistic director,  and former King of San Francisco Carnaval, Theo Aytchan Williams takes dancers on a cultural journey through out the diaspora of funky Carnaval movement not just in dance class.   The Funkquarians had a big contingent in 2011 Carnaval, took it to another level in 2012 with our float, and 2013 is going to be even bigger!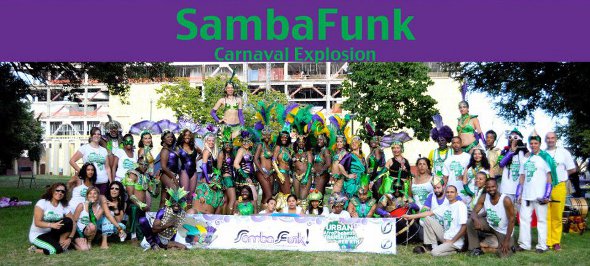 Classes are weekly:
Sundays 4pm @ the Malonga Center for the Arts
14th & Alice, in Oakland
All Levels.  $12 per session – $10 with purchase of class card

Wednesdays classes are on hold until a new spot is found!
Suggested listening :  Ile Aiye, Olodum, Carlinhos Brown, James Brown, Micheal Jackson, Black Rio, T Connection.
For more information: call 510.451.6100 or email info@sambafunk.com