Soulful Samba Mondays 
Introduction to Samba & Carnival Dance
Weekly Classes: 6:30pm – 7:50pm  $12
Mardi Gras San Francisco Style returns to the Fillmore on Tuesday, February 28th. The annual Fat Tuesday celebration opens with a free blues concert at 5 pm in the Fillmore Center Plaza, where Pat (Lady Guitar) Wilder, is followed by a New Orleans style processional, led by The St. Gabriel Brass Band and SambaFunk!
When: Fat Tuesday, February 28, 2017
5:00 pm @ 1475 Fillmore St. San Francisco, CA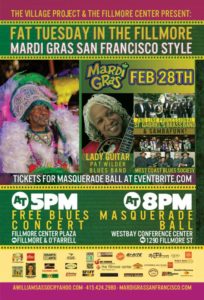 Soulful Samba Mondays 
Introduction to Samba & Carnival Dance
Weekly Classes: 6:30pm – 7:50pm  $12
SambaChurch! Dance Training: Every Sunday from 4:00pm-6:00pm!
SambaFunk's 2017 Carnival Season is already shaping up to be one of its best!! We're kicking off a huge season of cultural arts and excellence with SambaFunk! family performing around the world to celebrate Mardi Gras, Rio Carnaval and Trinidad and Tobago Carnival!
This Friday, FEBRUARY 24, 2017 we'll be jaiming and grooving at
AFRO LATINO MARDI GRAS CELEBRATION!
The EndUp
401 6th St, San Francisco, CA
10pm – 2am
$10 to Enter before 11PM /$20 After 11PM
SambaFunk! is closing out Black History Month celebrating our Black and Brown Bay communities the only way the Town knows how: turning it up from city hall to the streets!
---
Our first stop is with SF Supervisors London Breed and Malia Cohen as they host the
SF BLACK HISTORY MONTH CULTURAL EXPERIENCE,
THIS Thursday February 23, 2017
@ 1 Dr. Carlton B. Goodlett Place, San Francisco, CA
SAN FRANCISCO CITY HALL-North Light Court
Soulful Samba Mondays 
Introduction to Samba & Carnival Dance
Weekly Classes: 6:30pm – 7:50pm  $12