Look for SambaFunk! at the Community Stage at the Berkeley Juneteenth Festival on the 24th around 2pm.   Come out and enjoy a full day of events.
The Berkeley Juneteenth Festival is free and open to the public. Family entertainment is the focus of all Berkeley Juneteenth Festivals.
About Juneteenth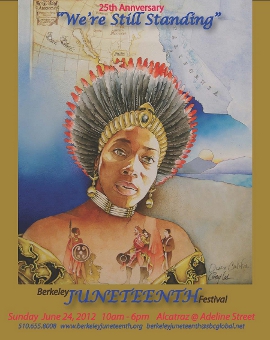 The Emancipation Proclamation signed by President Lincoln on January 1, 1863, freed slaves from southern states in rebellion against the United States during the Civil War. News of the signing did not reach Galveston, Texas until June 19, 1865. On June 19th (shortened to JUNETEENTH), slaves flooded the streets, rejoicing in their newly discovered freedom. The sweet smell of barbecue smoke filled the air! Dancing feet pounded the ground and voices sung out, as this day, JUNETEENTH, would forever commemorate African American freedom!
President Lincoln, having no legal power to single-handedly terminate the institution of slavery, Congress proposed the 13th Amendment to the Constitution, abolishing slavery, on February 1, 1865, and it was ratified on December 6, 1865.
Communities nationwide have adopted JUNETEENTH as an occasion to celebrate African American culture and traditions, and as an opportunity to acknowledge contributions African Americans have made to the fabric of America. Events like Chinese New Year, Cinco de Mayo, and JUNETEENTH, celebrate diversity, and unify our nation when we celebrate together.